FAQ
My order
Who can order ?
Anyone who is legally allowed to buy alcoholic beverages can order beer.
How to order ?
You can order as you like.
You can:
- combine and order as you like
- simulate as much as you like
- apply search filters
- use the search application
- choose your country and your currency
- consult the shipping cost overview at customers service - shipping and delivery
What is the applicable VAT tax? (Only for EU countries)
To calculate the applicable vat of your country, first select your country on top and update. According to the new EU rules we have to calculate the vat of the country we ship to. Your country collects that vat.
In which currency can I order ?
You can order in EUR, USD and GBP. Checkout proceeds in the same currency. Currency exchange rates are regurlarly updated.
What is a unit ?
A unit is a packing unity that we use to optimize packaging. Every product has an equivalent in units. These are :
1 bottle 25 cl: 1 unit
1 bottle 33 cl: 1 unit
1 bottle 37,5 cl: 1 unit
1 bottle 50 cl: 2 units
1 bottle 66cl: 2 units
1 bottle 75 cl: 2 units
1 glass: 2 or 4 units
What is the weight of a bottle?
Average weights are:
560 grams for a 25cl bottle
620 grams for a 33cl bottle
850 grams for a 37.5cl bottle
1400 grams for a 75cl bottle
500 grams for a glass
These are averages, there are a lot of bottles with a different weight.
Packaging weight is set on 3000 grams standard.
Do I really need to put in my email and phone number ?
Our courier oblige us to provide them with your email and phone number. By doing so our courier is capable to contact you if necessary. For deliveries in some countries our couriers will send you an email or text message to inform you about the delivery date of your package. You can change or optimize the delivery date by following the instructions made by them. Our courier DPD provides this service in most European countries.
Do you ship to the US? Are prices VAT tax included?
Yes, we ship to the US (not to California).
All prices include Belgian VAT tax.
For the US the shown prices must be lowered with 21% (visible at the checkout page and not for the shipping cost).
For orders with a destination within the European Union calculation of VAT applies, these are the shown prices.
If you are a non-Belgian VAT registrered business. VAT will be extracted only when put in a regular European VAT number starting with your country code.
Why didn't I receive an order confirmation mail ?
Please check your spam folder because most likely the order confirmation mail ended up there. If not so, send us an email.
Can I have sent the beers to another address ?
Yes, in the checkout page there is the possibility to fill in a different shipping address but this is only possible in the same country because of vat rules. If you like to include your personal message, mention it in the questions/remarks field at the checkout page. We will include a note with your personal message on it.
Do I have to pay duties and taxes ?
It is the customer's responsibility to examine and inquire all local import restrictions and/or prohibitions before ordering. If applicable, it is his/her responsibility to be provided with all necessary import licences and/or approvals. In case the ordered goods are blocked or cannot be customs cleared or cannot be delivered because of these restrictions, prohibitions or lack to the necessary licences or approvals, BH can not be hold responsible. There will be no refund of that order. Local taxes must be paid by the customer. In case the package is blocked by customs, it is the customer's responsability to pay all local taxes. In case a package is resend to BH because the customer did not pay the local taxes, there will be no refund of that order.
Why is my shopping cart emptied ?
Your shopping cart will be emptied when you abandon the payment page before completing the transaction. Your order is not registered then.
Is there a minimum order quantity ?
No, you can order as you like, but if your order is less than €40 we calculate €4.95 packing cost.

Can I cancel my order ?
Yes, as long as your order is not shipped. In that case we will refund the order amount minus 3.5% banking cost.
Can you put aside beers for me for a later shipment?
Yes, if you want us to put aside beers awaiting a later shipment, just send us an email or put it in your comment when ordering.
Can you be a proxy?
No, we cannot be a proxy.
I want to order more that the maximum quantity, is that possible?
Yes, storage place is limited so mostly we only have a limited quantity of all the beers we offer. If you want to order more beers than the maximum quantity, just send us an email with the quantity you want to order and then we will see what is possible. Do this before ordering and await our answer please.
Shipping and delivery
Do you ship to the UK?
Yes, we ship to the UK with Fedex.
It is important to read the text below to fully understand how shipping to the UK proceeds.
First choose UK on top.
Beer prices are shown Belgian vat included but that vat will be extracted at the checkout page.
To get your goods custom cleared and delivered
you
MAYBE
receive a Fedex invoice to pay UK VAT (20%), UK duties and a disbursement fee.
BUT THIS IS VERY RARE, so normally you can buy cheap.

If you receive a Fedex invoice better pay this invoice immediatly to avoid extra storage costs.
This invoice and costs are at the customers responsability.


Fedex makes 1 delivery attempt.
When you are not at home at the time of delivery
the package will be left in the nearest service point for pickup by yourself.
You should receive a courier's notification then.
Storage time in these service points is short.
When the package is not picked up before exceeding of the storage time,
the package returns to Belgium with high extra costs.
This is the courier's policy.
These costs are at the customer's responsability.
There will be no resending of that order.
Check your spam box or contact us at info@belgianhappiness.com when the delivery is delayed too long in your opinion.

From us you always receive confirmation emails about ordering, payment and shipping.
So please also check your spam box and mark them in your email system as wished.
No shipping to Northern Ireland, Gibraltar, Channel Islands.
What is Home Delivery?
Home Delivery means that your order will be delivered at your home address (or the address that you have put in).
What if I am not at home when I choose Home Delivery ?
Depending on the country the courier undertakes 1 to 3 attempts to deliver your package. If you are not at home, the courier will leave a notification. You can contact the courier to arrange a new delivery attempt or to arrange a pickup by yourself.
Be aware that the storage time at a depot is limited!
What is Pickup in a Parcelshop?
When you want to manage the moment and place of collecting your package yourself, then choose our 'Pickup in a Parcelshop' possibility.
You can choose your pickup point nearby and pick up your package when it is convenient to you!
Make sure you can identify yourself to pickup the parcel.
The maximum weight per pickupbox is 20 kilogrammes.
Be aware that the storage time of your package at the pickup point is limited!
See also FAQ: What is the storage time for Pickup in my country?
What is the storage time for Pickup in my country?
The storage time in a Parcelshop is limited!
Number of calender days during which the consignee can pick up the parcel (including day of arrival)
Austria / 9
Belgium / 7
Czech Republic / 8
Denmark / 10
Estonia / 7
Finland / 10
France / 7
Germany / 6
Latvia / 7
Lithuania / 7
Luxembourg / 7
Netherlands / 6
Poland / 7
Portugal / 10
Spain / 8
Sweden / 10
Switzerland / 6
United Kingdom / 6
The Pickup map at the checkout page is not opening?
Click on the search field above the map.
You will see a selector screen with suggestions.
Select one of the choices by clicking on it.
Then the map opens and you can choose your parcelshop.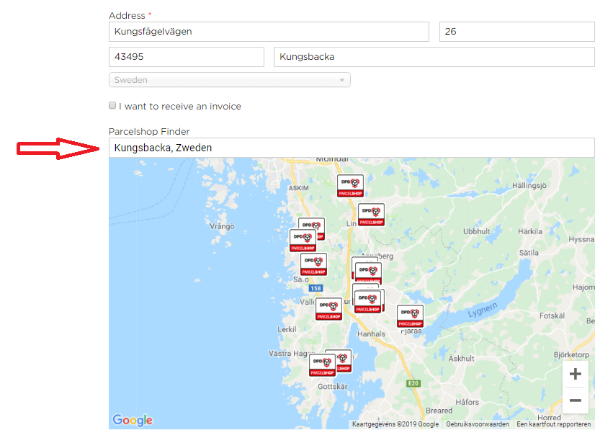 What if I do not pickup my parcel in the Parcelshop? Additional costs.
Storage time in depot (Home Delivery) and Pickup storage time - Additional costs.
Storage time is limited!
When the storage time is over, the parcel will be sent back to BH. This is the courier's policy. When a parcel is sent back to BH following costs will be calculated:
In case you want us to resend that same order, the retour sending cost, the resending shipment cost and the repackingcost will be invoiced via a Paypal invoice and have to be paid in advance before reshipment can proceed.
In case you want to cancel the order, the amount of that order will be refund minus the retour sending cost, the original packingcost and the original bankcosts. The refund will be done within 14 days after we received that parcel.
So don't wait too long to pickup your order!
How long does it take before my order will be shipped ?
Your order usually will be shipped within 1 to 2 business days.
How long does it take to deliver my order ?
The time needed to deliver your order in Europe varies from 1 to 4 business days, to the USA it takes 2 to 6 business days, elsewhere it takes 4 to 9 business days.
Can I track my package ?
When your order is shipped, you receive an email with your tracking number and a link to the courier's site on which you can follow your package.
Why didn't I receive a shipping confirmation mail ?
Please check your spam folder because most likely the shipping confirmation mail ended up there. If not so, send us an email.
Do you ship to PO box addresses ?
No, we do not deliver to PO box addresses, nor to APO or FPO addresses.
Do I have a right of withdrawal ?
The buyer has 14 days to return, at its expense, the products he ordered, without penalty and without giving any reason. This period starts from the date of delivery of the order. The products must be returned to Belgian Happiness in its original packaging, sufficiently packed. This right only applies to non-opened, non-damaged, non-broken and non-personalized beerbottles and glasses. After receipt of the returned goods, Belgian Happiness will refund the buyer within 30 days on a shared bankcost basis. The refund only applies to the returned goods.
Why is the shipping cost of a package with few weight relatively high ?
Couriers calculate few weight packages on their metric weight instead of the real weight.
What if my products are damaged ?
In case of damage, please accept the box and make sure a remark is written down on the device of the courier's driver. We need some pictures from the box in the whole before unpacking. This is important to get the claim admissible. Please email us also your ordernumber, a list and pictures of the broken bottles. Make sure the damage is visible. To claim the damage send us this withing 3 days after delivery. We do not send after the broken bottles but will compensate it with a gift card or a refund in the currency of the original order. We do not compensate any currency fluctuations that may occur.
Payment
Which payment methods can I use ?
Our payment methods are : Visa, Mastercard, American Express, Paypal, Bank Transfer, Bancontact/Mister Cash, Maestro, Sofort Banking and IDeal.
Do I have to pay a bank cost or a transaction fee ?
No, you don't have to pay any bank cost or transaction fee! Altough our payment service provider charge us with high fees, we do not charge any payment fees. However, it is possible that your own bank will charge bank or transaction fees. These fees are at your expense and will not be refunded by Belgian Happiness.
Do you keep my credit card details ?
No, we do not keep your credit card information.
I do not have a credit card, can I still order ?
Of course ! You can order and pay with bank transfer or you can use Paypal. Be aware that the bank transfer method can only be used for payments in Euro and that it is restricted to the following countries : Austria, Belgium, Bulgaria, Croatia, Czech Republic, Denmark, Estonia, Finland, France, Germany, Greece, Hungary, Ireland, Italy, Latvia, Lithuania, Luxembourg, Monaco, Netherlands, Norway, Poland, Romania, Slovakia, Slovenia, Spain, Sweden, Switzerland, United Kingdom.
Why didn't I receive a payment confirmation mail ?
Please check your spam box because most likely the payment confirmation mail ended up there. If not so, send us an email.
Can I receive a payment link to finish my order?
If the payment of your order did not go through (also check your spam box for confirmation emails) normally our payment service provider Multisafepay send you a payment invitation with a https link for that order. You can use that payment link or you can ask us to send a payment link to finish your order. Unpaid orders are deleted automatically after a while.
Giftcard
How can I use my gift card ?
Your gift card is valid for 1 year. In the checkout page you can enter your gift card code in the field "do you have a coupon?". You can use your gift card as often as you like until the total amount is spent.
What if my order exceeds my gift card amount ?
If your order amount exceeds your gift card value, first use your gift card to pay the first part and use one of the other payment methods to pay the second part of your order.
My account
How to create an account?
Creating an account is not obliged, you can order without an account. By having an account ordering goes faster and is more comfortable because our website will remember your data. And it is possible to consult your order history.
Order history is only possible after your account is created, it is not possible to include earlier orders to an account.
********************
IMPORTANT
********************
Once created an account, you will receive a second email with the demand to click on a link to confirm your account. Also check your spam box!
Only then your account will be activated.